Green Initiative
As seen in the New York Times: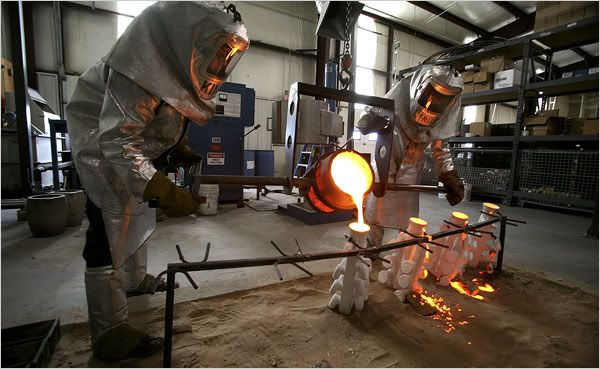 FOUNDRIES have earned a gritty image — of super-hot furnaces, molten lead and other metals, and noxious fumes and dust.
But these days, some foundries are winning green labels because they use cleaner materials and new machines and processes that have sharply reduced toxic waste.
SA Baxter, a small manufacturer of high-end doorknobs, hinges and other architectural hardware, is one example. At
Baxter's
factory in Chester, N.Y., about 60 miles north of New York City, no lead is used, no wastewater is produced, almost no emissions are released into the atmosphere, and many of the materials used are recycled.
Scott A. Baxter, who previously started and sold telecommunications and Internet companies, opened the foundry three years ago because he could not find the detailed architectural hardware he wanted for his new home in Bergen County, N.J. Producing eco-friendly fixtures was not his primary goal.
But as he outfitted his 10,000-square-foot factory, he discovered, like a growing number of manufacturers, that it was only marginally more expensive to use lead-free materials and that pricier eco-friendly machinery quickly paid for itself.
"If you can do it green, you should," said Mr. Baxter, standing on the near-spotless factory floor, where 24 engineers and artisans work. "The technology is changing, and that enables you to be green."
Architectural Hardware